Her Firm Represents Clients Throughout Eastern Colorado & Beyond Who are Facing Charges at all Levels. Meet Criminal Defense Attorney Becky Briggs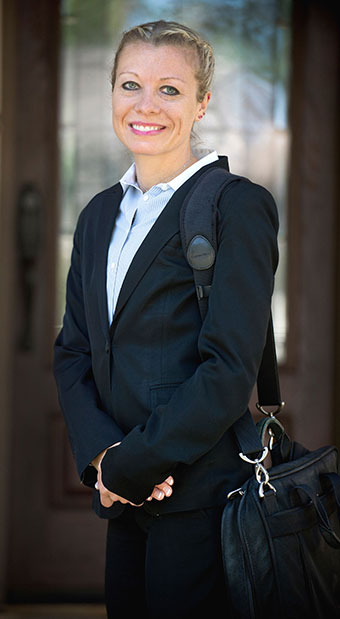 Prior to establishing her office in Pueblo, Ms. Briggs was a former Deputy Colorado Public Defender who worked in Pueblo and Grand Junction.  She then entered private practice in Southwestern Colorado.  She has represented clients facing a wide range of criminal charges, from DUI, to distribution of drugs, to sexual assault.  She is an experienced trial attorney, with dozens of cases taken to trial in front of Colorado juries. Ms. Briggs is a member of the National Association of Criminal Defense Lawyers.
Prior to working in the Public Defender system, Ms. Briggs interned with the Philadelphia Defender Association and received the Philadelphia Bar Association's Outstanding Public Service Award.  She also received a Public Interest Fellowship Scholarship to help fund her position at Prevention Point Philadelphia's Legal Clinic.

Ms. Briggs received her law degree from Villanova University, where she was Associate Editor of Outside Articles for the Villanova Environmental Law Journal.  Ms. Briggs was also a staff writer for the journal, where she wrote a compelling comment advising municipalities on how to draft waste ordinances that would not run afoul of the Dormant Commerce Clause.

A proud graduate of Bryan Mawr College, Ms. Briggs received her degree in anthropology from the Seven Sisters institution.  In addition to her studies, Ms. Briggs was a four-year student-athlete competing in swimming and field hockey.  She received all-conference honors for the Owls in the 400 individual medley.

Q: Why did you decide to attend law school?
BB: I was always extremely troubled by how our society punishes people, and I wanted to be on the frontlines of effecting change in that area. From when I read a book about the death penalty when I was 12, I decided I wanted to be a criminal defense attorney. Law school has given me an opportunity to fight each and every day to keep people out of cages.
Q: Can you share with our audience, the types of law you specialize in?
BB: My practice is 100% criminal defense. A huge portion of my cases are court-appointed, meaning that my clients are indigent and could not afford to pay an attorney on their own. It is definitely not the most lucrative area, but it is incredibly fulfilling, and there is a ton of courtroom action!
Q: If we interviewed all your past clients … what is "one" common word that comes up when they describe working with your law firm?  
BB: Probably "compassionate." I take on the most serious cases in existence, from homicide, to kidnapping, to sexual assault. I always impress upon my clients how no one forfeits their right to happiness, regardless of what they have done.
Q: You worked in the Public Defenders office in Philadelphia, can you tell us what that was like?  
BB: Philadelphia had a massive public defender's office, with dozens of attorneys and numerous departments. I interned there in 2007, and the attorney in charge of my internship shared an office with two other experienced attorneys that was the size of my college dorm room. I would have loved to work there once I graduated law school, but Philadelphia as a city was not for me. But I think back frequently on what I learned there, and I still keep in touch with my classmates who went to work for them!
Q: Why did you decide to head west to Colorado?
BB: I knew that I wanted to be a public defender and I had heard that the best public defender system in the world was the Colorado State Public Defender system. I was not disappointed! Their training and culture is first rate, and they instilled in me a lifelong commitment to protect the vulnerable from the brutal backlash of the criminal justice system.
Q: Were there moments in your career that were pivotal to getting where you are today?
BB: When I was a young public defender in Pueblo, CO, my mentor, Adam Schultz, told me "Most of the time, all anyone needs is to have someone in their corner." Those words have turned out to be the truest I have ever heard, as it was his leadership and tutelage that gave me the confidence to keep going. Eventually, Adam encouraged me to get involved in a complicated death penalty case that changed me forever as a person and professional. 
Q: Can you share, which woman inspires you and why? 
BB: It is probably kind of a cliché answer right now, but I got to go with Alexandrea Ocasio-Cortez. I have so often let fear and pressure discourage me from taking a stand and speaking my mind, so I gain a ton of inspiration from someone like AOC who is brilliant, driven, and carries herself with fearless finesse. 
Q: What's your advice for women in male-dominated fields?
BB: No matter the level of toxic masculinity in a given culture, there are always male allies. Find them, forge an alliance, and build your empire! Also, start a girls' club! Surrounding yourself with other women who you admire and can learn and laugh with can make a tremendous difference. Finally, never be afraid to take risks. Big gambles, however intimidating they may be, often generate huge rewards. 
Q: What advice would you give to young women who want to pursue a career as an Attorney?
BB: There are a ton of Grumpy Gusses right now about entering the legal field. Do not listen to them! Being an attorney is an incredibly rewarding and intellectually enriching experience, and there are so many avenues you can pursue professionally with a law degree.
Five Things About Attorney Becky Briggs
1. If you could talk to one famous person past or present, who would it be and why?
Recently I have been reading about a crusader named Ida of Formbach-Rateinberg who led her own army to Jerusalem in the Crusades. Historians are unclear about exactly what happened to her eventually, and I would love to chat with her and hear about her adventures and courage. I am also fascinated by the Crusades and would love to do a tour of the Holy Land one day.
2. Who would you want to play you in a movie of your life?
I like Jennifer Lawrence, because she can play characters with a wide range of emotions and characteristics, and I have worn many hats in my life. I think she would best portray my devotion and passion for the very controversial mission that is criminal defense.
3. What was your favorite subject in school?
I adored AP U.S. History in high school because I had a super feminist teacher who encouraged me to no end and told me I was going to be the next Hillary Clinton. 
4. Do you have any hobbies?
Yes! I love making lots of time for activities I enjoy! I play roller derby constantly (my skate name is Tyrannosaurus Bex) for the Pikes Peak Derby Dames, I play soccer for the Somersaults in Colorado Springs, and I have become obsessed with pole dance fitness in the last couple years. My favorite non-fitness hobby is studying Spanish, and I take tons of online lessons to improve my language skills and have fun. Recently I watched the Netflix series "The Witcher" dubbed in Spanish, and I think I missed out on some critical plot points. ☺
5. What would you sing at Karaoke night?
Probably "Bubba Shot the Jukebox," because it is obnoxious and humorous, just like me. It's also a good shout-out to my southern Virginia roots.