Her Ambition is to Provide Legal Services to Clients Victimized By Gender-Based Discrimination. Meet Title IX Staff Attorney & Fellow Camille Agnello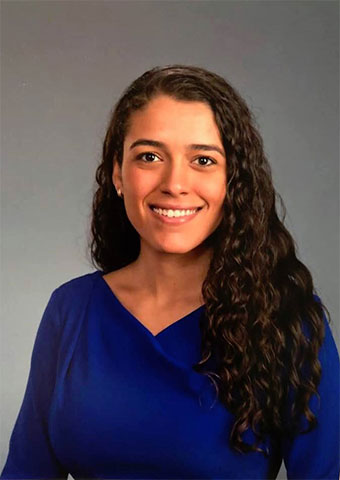 Rocky Mountain Victim Law Center is a Colorado nonprofit law firm providing free legal services to victims of crime in Colorado through our Victim Rights Legal Services, Legal Information Network of Colorado, and Title IX programs.
Q: For those in our audience not familiar with the Rocky Mountain Victim Law Center, can you tell us about the organization and the programs and services you provide?
CA: Rocky Mountain Victim Law Center (RMvlc) is a non-profit law firm based in Denver, Colorado, and our mission is to "Elevate Victims' Voices, Champion Victims' Rights, and Transform the Systems Impacting Them." Importantly, RMvlc is a multi-disciplinary office, which means that we have a Victim Service Specialists along with an Attorney on each case to ensure our clients are provided with the best trauma informed legal services possible. RMvlc has three main programs that provide a range of services to victims and survivors across the state of Colorado, including direct representation, service provider technical assistance, training on topics like trauma informed legal services and substantive legal issues, and/or information and referrals. Due to our status as a non-profit, RMvlc cannot represent clients in civil litigation but we often provide information and referrals in those cases.
RMvlc was founded on our Victim Rights Legal Services program that provides direct representation for crime victims to uphold their rights under the Colorado Victim Rights Act​. As an organization we attempt to increase victim participation in the criminal justice system and make sure that victims are treated with fairness, dignity, and respect as they navigate the criminal justice system. RMvlc's second program, our Legal Information Network of Colorado (LINC), is a collaborative network that provides confidential, no-cost, comprehensive legal information services for crime victims state-wide. LINC has also developed a helpful interactive website, (www.ColoradoLINC.org)​.  ​RMvlc's Title IX Program is our newest program and works to address the legal needs of victims and survivors of gender-based discrimination in K-12 and higher education settings. 

Q: Tell us about your position as a Title IX Staff Attorney?
CA: The legal services I provide focus on supporting student sexual discrimination survivors by providing information about their rights afforded under Title IX, the legal options that may be available to them, and how to navigate the complex privacy issues that arise throughout the Title IX process. I work specifically with clients who experience sex discrimination at institutions of higher education. Sex discrimination can include sexual harassment, assault, or violence by a fellow student, employee, or a third party. Under Title IX, schools that receive federal funding are legally required to respond and remedy the hostile environment resulting from the sex discrimination. 
Depending on our capacity and the nature of the case, I may represent student survivors through the entirety of Title IX administrative process or only a specific stage. Title IX process involves the adjudication and resolution of a complaint, which is handled internally by school officials. When I take on a case from the beginning of the administrative process, I draft the formal complaint of sex discrimination, assist my client in the investigation process, advise at hearings, question witnesses and responding parties, draft appeals, and advocate for my client to receive interim measures and accommodations to ensure that the access to their education program or activity is not limited or denied.

In addition to working directly with school officials, I also draft complaints for submission to the U.S. Department of Education's (DOE) Office of Civil Rights, which is the federal agency responsible for enforcing Title IX and may investigate in cases where a school failed to comply with Title IX.

My job also goes beyond representing students through the Title IX process to helping inform and guide students who call with questions about their options related to sex discrimination they experienced, such as reporting to law enforcement or filing a lawsuit against the perpetrator or the school. During these conversations, I make it a point to highlight the seldom addressed risks of these actions, which generally involve privacy, defamation, and safety concerns. I enjoy these conversations because I get to provide information and referrals to student survivors who often lack resources. 

The last aspect of my job is what we at RMvlc call service provider technical assistance, which is when local organizations call us with questions about specific areas of law or potential cases. I have become more involved with technical assistance since the DOE issued its new Title IX rules that come into effect on August 14, 2020 because many people without everyday Title IX experience have questions about the specifics and the practical application of the new rules. It has been interesting to research and discuss the new rules in this context because I get to explore many hypothetical situations that I may need to be prepared for in the future. 

Q: When did you know you would pursue a career as an Attorney?
CA: During my junior year of college, I was exploring the idea of going to law school and reached out to an attorney I had worked for to discuss my decision. The attorney shared that he thought a law school education was invaluable because it teaches you how to critically think, problem solve, and write in a way that is transferable and relevant to many parts of life. Having such a diverse professional and personal skillset is primarily what made me want to pursue a career as an attorney. And, while researching the different possible practice areas I was drawn by the prospect of getting involved in the public interest sector of the legal profession. 
Q: What aspects of the daily job of being a lawyer interest you the most?
CA: Title IX administrative law is often in flux, and its related legal issues are relatively convoluted. Accordingly, I am often tasked with answering complicated and novel questions of law. I am always interested in researching these questions because I get to creatively problem solve and usually learn something new. Relatedly, I take a great interest in figuring out new and innovative ways to advocate for my clients' interests and ensure that their voices are being heard throughout the process.
Q: After high school, where did you feel your career path would take you?  
CA: I initially wanted to pursue a career in environmental studies, specifically something related to land management and sustainable urban planning. In fact, during college, I was involved with several local environmental initiatives and helped support myself by working as a nature guide. But my focus eventually shifted towards pursuing a career in law after taking some introductory law courses during my junior and senior years. 
Q: Were there moments in your career that were pivotal to getting where you are today?
CA: A large part of my academic career was spent investing time and energy into non-profit organizations, and I think those experiences cultivated my passion for providing essential services available to every person in my community regardless of their socioeconomic status. It was that same passion that prompted me to pursue being a student attorney in my law school's civil litigation clinic and I discovered how much I liked trauma informed and victim centered legal practice, which was pivotal in shifting my focus from environmental litigation to victim services. 
Q: Which woman inspires you and why? 
CA: My mom, who was born a small town in Puerto Rico and became a very successful woman with little more than pure grit and intelligence. She inspires me because she never apologized for her ambitions and taught me the value of determination. It is women like my mom that fought for my privilege to enter male dominated workplaces with less fear of overt harassment and discrimination. For that, I am full of gratitude and a drive to continue their legacy. 
Q: What advice would you give to young women who want to succeed in the workplace?
CA: Self-confidence, in my view, is vital to professional success. And I would tell young women that you would be amazed how much using your voice helps build that confidence. I am lucky to work in a female dominated workplace where I feel supported and empowered by female professionals. At RMvlc, I have felt free to express myself, which has been immensely helpful in building my own self-confidence as a new attorney. Unfortunately, though, working in such a supportive environment is not the norm in most professional settings. To young women, especially women of color, please remember that you belong in all workplaces. Voice your opinions, ideas, perspectives, dissent, and feelings as frequently and as loudly as possible because they are just as valid and valuable as those whose privilege allowed them access to those spaces first. 
Four Things About Camille Agnello

1.If you could talk to one famous person past or present, who would it be and why? 
Patsy Mink, who co-authored the Title IX Amendment, because I would have liked to discuss how she envisioned the implementation of the law at its conception and what her ideal framework would be for adjudicating Title IX cases on both a K-12 and higher education level. I think it would also be interesting to ask her about her thoughts on the past federal guidance in comparison to the upcoming federal regulations, effective August 14, 2020. 
2. Favorite city?
New York City.
3. Would you rather vacation in Hawaii or Alaska, and why? 
I would go to Alaska because I have always wanted to hike in Denali National Park.
4. What do you like to do when you have a day off? 
I enjoy hiking and camping, so you can usually find me in the mountains on a day off.