She has Practiced Extensively in Construction Defect Law, Commercial Law & Business Litigation & Real Estate Law. Meet Denver Attorney Caroline Beavers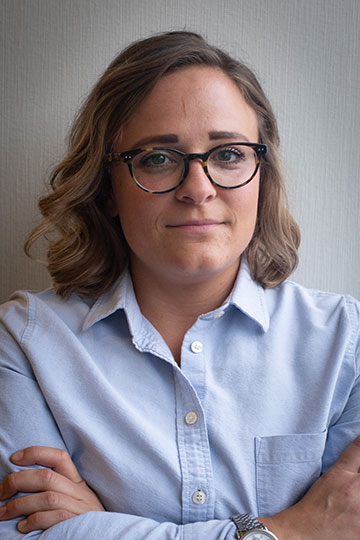 Caroline attended law school at the University of Arkansas in Little Rock at the Bowen School of Law. There, she earned her J.D., while working as an attorney in the Tax Clinic, externing with Housing and Urban Development in the office of their general counsel and serving as president of the UALR Public Interest law society. Caroline worked at the Dillard's corporate headquarters in Little Rock in their real estate department as a transactional real estate associate.
She enjoys representing homeowners, small business owners and contractors/subcontractors/vendors/material suppliers. Caroline has extensive experience in reviewing, negotiating, and managing both private and public construction contracts. 

Q: When did you know you would pursue a career as an Attorney?
CB: I knew fairly young that I could be/would be a good attorney. I did not commit to going to law school until about halfway through obtaining my finance degree at the University of Arkansas. I realized I would rather read and analyze concepts than be married to a calculator and an excel spreadsheet. 
Q: Can you share with our audience, the types of law you specialize in?
CB: I practice Real Estate Construction and General Business Law, in both litigation and transactional arenas. 
Q: What aspects of the daily job of being a lawyer interest you the most?
CB: I love to learn and be creative. While the career doesn't always allow for a lot of creativity in the traditional sense, I carve out different ways to flex my creative muscle. Whether it be by addressing an (often) nuanced legal issue and finding an alternative way to tackle it. I also am a problem solver and that's what people come to me for. 
Q: What is your approach or philosophy to winning or representing a case?
CB: Know the facts better than everyone else, including the client. I like to be thorough. If I am unprepared, I will be found out. 
Q: What are the best practices you have employed to build a successful career? 
CB: When I was younger, it was to outwork everyone and grind. As I have aged and burn out became a real concern, I realized hard work is important but working smarter not harder is just as important. I have not fully mastered this, but I work on it daily. I check in every day, and ask, "what did I do well?", "what didn't I do well?" and "how can I improve?"
Q: What's your advice for women in male-dominated fields?
CB: During law school I often heard I would have to work twice as hard to be thought of as half as good as my male counterparts. Unfortunately, I think this is true in most fields. My advice, as much as it sounds like a broken record, is to remember you have a place and a seat at the table. Also, remember you cannot get what you do not ask for. The times of "you get what you get and don't get upset" are over. Promote yourself and be confident about your worth, in salary and otherwise. 
Q: What was your first job? And how did it shape or impact you?
CB: My first job was working on my father's cattle and row crop farm in a small town in Arkansas. Spending summers in 110-degree humidity taught me a lot: always drink water and air conditioning would be a must for my future career. Joking aside, this job taught me how to work hard and was responsible for that grit I spoke about earlier. I also got to watch my father, firsthand, run his own business. He is responsible for my entrepreneurial spirit. 
Q: Can you tell us how you manage your work life balance?
CB: I treat my self-care as a job in and of itself. Unfortunately, my career is replete with stories of burnout and unhealthy habits. I plan for self-care and fun. If I don't, I won't. It's that simple. My calendar has time frames that simply say "No". I do not schedule during those times. I have found that healthy and solid boundaries keep my life balanced. I understand that to provide the best service to my clients I must be at my best and I cannot give that if I am not taking care of myself. I also schedule as many fly fishing trips as possible. 
Q: What's one lesson you've learned in your career that you can share with our audience?
CB: Be resolute in your goals but flexible in your methods and means. I understand as a small business owner I have to be flexible and agile. In these uncertain times being able to pivot is crucial. A business model might not make sense anymore and you have to recognize that and try something else. Also, don't take yourself too seriously. 
Five Things About Caroline Beavers

1. If you could talk to one famous person past or present, who would it be and why? 
Supreme Court Justice Ruth Bader Ginsberg love her work. 
2. What would you sing at Karaoke night?
Without you by The Chicks
3. What's your favorite zoo animal?
Rhinoceros 
4. What app can't you live without?
Spotify or Scribd
5. If you could join any past or current music group which would you want to join?
Fleetwood Mac