A Conversation with Dr. Kaitlyn Popp, Owner & Founder of Katas Integrative Health
Dr. Kaitlyn Popp is a Colorado State Licensed and Board-Certified Chiropractor and Acupuncturist. She completed her Doctorate in Chiropractic from the National University of Health Sciences, while simultaneously completing 100-hours in Acupuncture.
She continued her education with an initial focus on Rehabilitation where she completed all the courses necessary to receive her Diplomat.  As the Assistant Chairman at the Midwest Rehabilitation Institute, she was influential in jump-starting a new business initiative and working with patients of various levels of need. Her favorite type of rehabilitation is Dynamic Neuromuscular Stabilization (DNS). DNS focuses on the human developmental process and the neural connections made during a major developmental milestone of one's life.

Dr. Popp is a certified Corrective Exercise Specialist and a Performance Enhancement Specialist, instructing adults of various levels on how to move properly to prevent injuries.

Q: When in your life did you realize you would pursue being a Doctor of Chiropractic?
KP: During college and after, my primary care physician was an Eastern Medicine Chiropractor. I was a ballet dancer at the University of Iowa and during this time I had severe joint pain, cystic acne, skin rashes, and gut disturbances. These were hard symptoms to ignore when I spent my days in a leotard constantly moving my body. It came to a point where I couldn't discount it any longer. The first time I went to him, he told me quite confidently that if I didn't eliminate gluten and dairy from my diet I would end up with rheumatoid arthritis at a young age. This man…this witch doctor, turned my world upside down by encouraging me to heal my chronic health issues. I say witch doctor with love, because those clinicians who look at health through a different lens are by far the best. 
It took me a long time to accept the fact that certain foods were making me sick. Once I hit my 100th wall, I caved and listened to the man. I removed gluten and dairy, incorporated specific nutrients into my routine, improved lifestyle habits and the rest was history. My joint pain vanished, my skin cleared up and my energy was back! I was sold. Once I experienced how the body can innately heal itself, it brought me down a long and winding road to where I am today. I quit my job as a Deputy Clerk at the State of Illinois Appellate Court and entered into the Naturopathic Medicine program at National University of Health Sciences where I spent 5 years learning the human body. 

Although my Doctorate is in Chiropractic, I have always practiced like a Naturopath aligning with the Naturopathic principles: (1) first do no harm, (2) the healing power of nature, (3) identify and treat the cause, (4) doctor as teacher, (5) treat the whole person, and (6) prevention. I attended the only school in the nation that has Chiropractic and Naturopathic Medicine in the same curriculum, National University of Health Sciences. I started in the Naturopathic program, but quickly switched to Chiropractic due to the fact that Naturopathic Medicine is not yet licensed in the State of Illinois…where I thought I was going to reside and practice. 

So, I found a way to incorporate the two. Chiropractic is a love I can't resist. It resets the nervous system and allows the body to heal naturally and quickly. I have repeatedly found in patients who do not get better with physical medicine, that the problem lies within. This is where Functional Medicine comes in, a systems-based approach meant to unravel underlying health issues and get to the root cause of your pain. Without taking a look at the whole body and how it is functioning inside and out, individual pieces are being treated. Our bodies are interconnected in every way and it has to be treated as such. I have seen a radical shift in patients who commit to a whole health approach. 

Q: Can you tell us about your practice and the types of services you offer? Can you explain what "Functional Medicine" is and how it can better a patient?
KP: Katas Integrative Health is a whole health center. We incorporate both physical medicine, including Chiropractic, Acupuncture and Cupping, with Functional Medicine, a method of treatment that works to unravel the root cause of your illness. We utilize bloodwork and lab analysis as a way to track your progress and improvement under our care. There are three elements that should always be addressed when an individual is seeking health and wellness - physical, chemical, and emotional.
Physical Health: structural, spinal health, muscle balance
Your body communicates what it needs through aches, discomfort or upset.
Chemical Health: nutrition and biochemical balance
You are what you eat, drink, inhale, absorb, and consume!
Emotional Health: psychological, mental, stress-induced
There is a chemical reaction within the body with every thought and feeling.
Functional medicine addresses the underlying causes of disease, looking at each system in the body as interconnected. It is a personalized, patient-centered model of care. Functional medicine involves understanding the origins, prevention, and treatment of complex, chronic disease. 

Q: What do you feel are the most important qualities in being a good Chiropractor?
KP: Listening. Many of my patients have had negative experiences with other physicians, both Chiropractors and Medical Doctors, due to them not feeling heard. Most physicians allow 5-10 minutes for an appointment, oftentimes rushing and leaving the patient feeling dissatisfied. For this reason, listening is the most important quality for a Chiropractor. A lot is discovered in the initial intake alone that reveals where an issue may be stemming from. I pride myself in taking the time to listen to my patients, scheduling 60-90 minutes for the first patient visit, and allowing 30-minutes for follow-up appointments.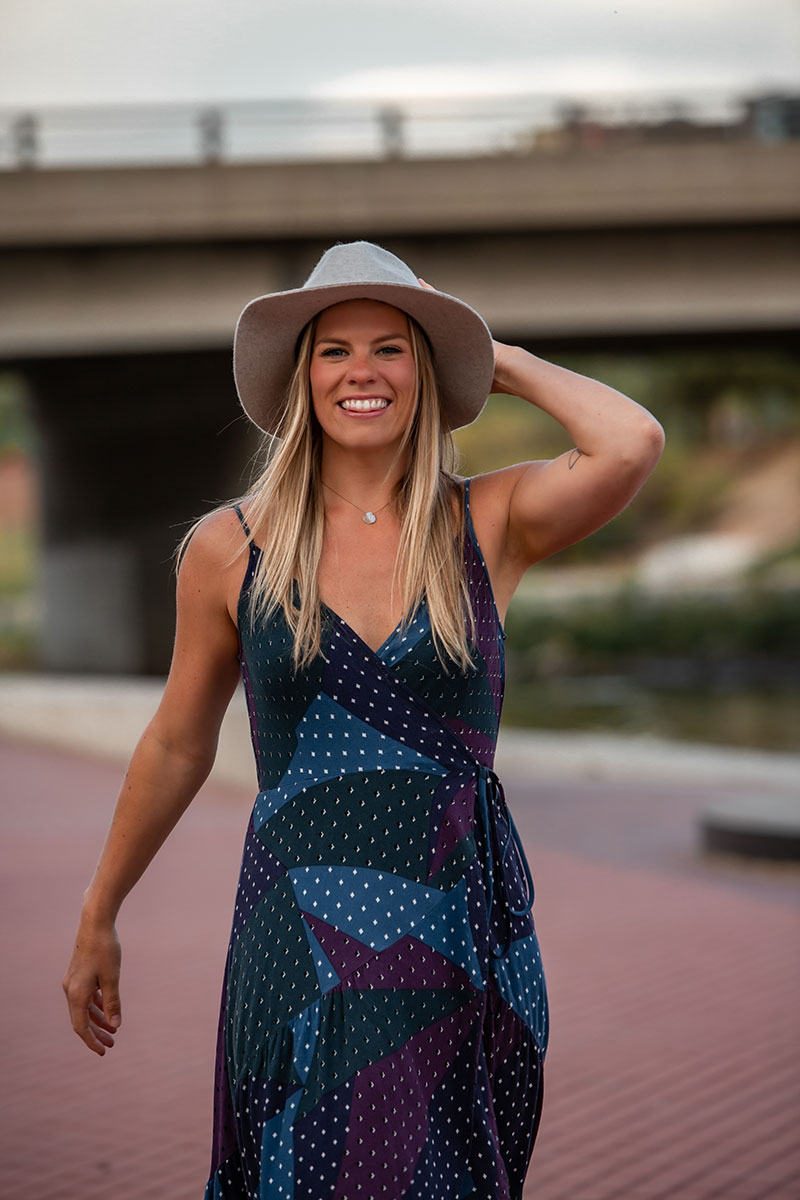 Q: What types of injuries do you normally treat?
KP: The most common injuries I treat are intervertebral disc injuries, whether that be an irritated, bulging, or herniated disc most commonly in the lumbar spine, along with headaches and all joint complaints. My second office is within a CrossFit gym, Brute Force Training Center, so I tend to see a lot of overuse and lifting injuries, such as rotator cuff and hip dysfunction. 
Q: What has been your most challenging case as a Chiropractor?
KP: My most challenging cases overall are with my Functional Medicine patients, as most are dealing with underlying chronic conditions such as autoimmunity. My most challenging chiropractic patient was someone who ended up having vertebral osteomyelitis, an infection of the spine, who progressed so fast that by the time I got his labs and x-rays back he was in the Emergency Room. 
Q: If we interviewed all your clients … what is "one" common word that comes up when they describe working with you?
KP: Compassionate
Q: Can you share which woman inspires you and why? 
KP: My mother by far. She has been through more traumas than any one person should endure…yet she continues to be her best self for everyone around her! She is a natural force of energy powered by the energizer bunny; I swear. She has always been my greatest inspiration. My morals and values stem from her - always do the right thing, show up for people and do your best in this life. I would not be where I am today without her support and guidance.
Q: Can you tell us how you manage your work life balance?
KP: Honestly, this is an ongoing process and one of my greatest struggles. I find myself escaping to the mountains where I have no cell service to recharge! Yet, I arrive home with greater anxiety for pausing life for a few days. Until I reach the point where I can hire additional employees, I am learning to set boundaries and find ways to take care of myself during the process. This includes nourishing my relationships, being present, and taking time for myself to recharge.
Q: What advice would you give to young women who want to pursue a career as a Doctor of Chiropractic? 
KP: Follow your instincts! When I was deciding whether or not to go back to school after being in the real world for 3 years…. I received a lot of kick back from everyone around me. I chose to follow my heart and it was the best decision I've ever made. You create the life you want. Go for it!
Five Things About Dr. Kaitlyn Popp

1. What celebrity would you like to meet at Starbucks for a cup of coffee?
Bill Murray
2. Which of the five senses would you say is your strongest?
Touch
3. If you could go back in time to change one thing, what would it be?
I would have chosen a science degree for my Bachelor's. I honestly feel most of us are unsure of who we are and what we want to be until later in life.
4. What's your favorite family recipe?
Beef Stroganoff & Chicken Paprika (plus so much more!)
5. What do you love most about living in Denver?
Besides being able to easily escape to the mountains, I would say the strong sense of community. Everyone supports each other in their small business ventures and wants their friends and neighbors to succeed. It is truly an amazing city!