Delivering a personalized experience in every transaction, Natalie offers Real Estate services through Colorado Home Realty for Denver and the surrounding areas.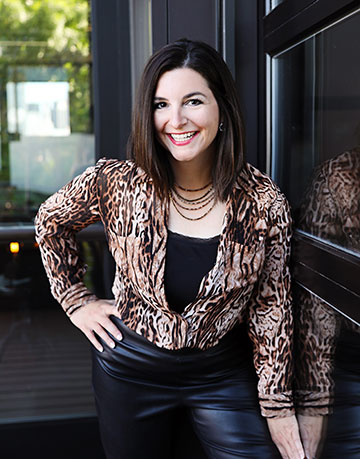 Her Clients know it's her job to ensure their financial interest in Real Estate. It is a priority. As a full-time Real Estate Agent, she's there for her clients from the first day to the last day of closing.
Natalie is deeply passionate about serving the needs of her buyers and Sellers. Her in-depth knowledge of the local housing market, and her client-first approach that fuel her enthusiasm in securing the right house that her clients they can call home!

Q: Can you share with us what made you decide to have a career in Real Estate? 
NR: Life has a funny way of pointing you in the right direction. If you're paying attention, it's always for your best. I started at a university earning my degree in Psychology. I loved Psychology, but at the end of my junior year, I worked at a summer camp with kids. This internship changed everything. Education seemed to be a better fit. When I was expecting my son, a small door opened up for a high school teacher in a rural community. I knew nothing about teaching. I didn't think I was cut out to teach high school. This was one of those moments where life knew better. I enjoyed it. I was able to give back and make a difference in the lives of the teens I taught. But there was a significant struggle taking the time needed to care for my son's growing needs.
I remember the year so clearly. My son had been sick with strep throat six times - not an exaggeration. The same year my grandmother passed away. That was the defining moment for me. I remember the longing to be able to serve in a capacity where I could continue to teach and help. While serving and helping this way, I didn't want to sacrifice my ability to be there for my family. I believe that family is everything.

Before teaching, I had experience in various career paths. These careers included: banking, lending, customer service and professional photography. With each career, my path in life became clearer. Real estate was the next step. 

My dad and grandparents were entrepreneurs. The thought never occurred to me that I could run my own business. My dad always found time to coach my softball team. He made time to help with homework. He didn't sacrifice his relationship with us for work.

There were early mornings and late evenings. My dad had a strong work ethic. He always wanted to do what was best for his clients. This is why he was successful. And I knew there was no better person for me to learn from, than him.

Realtors help people on their journey in life. They make an impact. I went to school for a degree in Psychology. I chose this field of study because I wanted to make a difference. Making an impact was also why I entered the teaching field.

While teaching, I learned about my student's families. Over time, I could tell which kids came from loving families. And I could point out which kids came from homes that didn't feel loving. This didn't mean that they weren't loving. It simply meant that it didn't feel that way.

I knew that home was about so much more than the actual house. When a house was too small it could cause arguments and stress. Likewise, a house in the wrong neighborhood could cause tension. When the house's features aren't right for your family, this causes more stress. An environment filled with arguments, stress and tension leads to bad memories. I believe that my clients and their families deserve a home that supports good memories.

Q: How long have you been active in Real Estate?
NR: I have been licensed for five years. 
Q: Obviously with Covid-19 there's a lot of changes going on in the world … what changes have you seen that you feel will remain in Real Estate? Do you think there will be more changes?
NR: That's an interesting question. I think many people jumped on the video and virtual bandwagon when Covid hit. As a mom to a special need's kiddo, I was doing much of my business virtually already, so not much changed for me. 

I really think people are looking for authenticity and connection. It will be necessary that as a Realtor, I develop authentic relationships and do so through video and virtual means as well. 
Q: Do you specialize in certain types of properties?
NR: The short answer is yes, but more so than a property, I enjoy working with the people that live in the home or will be living in the home. I really enjoy historic homes and properties with acreage. 
Q: Tell us about some of the homes you have personally remodeled?
NR: My first home that I remodeled just so happened to be the first home my hubby and I owned together. It was truly an awful home. I used to pray/wish that it would burn down, so we could just start from scratch. But eventually that home allowed us to build a home with a builder. At the time we couldn't afford the builder upgrades, so we did our own home renovation projects. It was very rewarding. We currently live in another "fixer" on 4 acres. And this is our biggest project yet. 
Q: Can you share with our audience what Buyers & Sellers can expect when they work with you?
NR: My core values are authenticity, connection, and loyalty. Buyers and sellers can expect a consultative approach to discovering their needs first and foremost. Moving is stressful and the better we understand why they need to move on the front end, the better we can eliminate some of those frustrations. They can expect me to advocate for them throughout the process. 
Q: How do you help buyers compete in a tight market?
NR: There are varying strategies that I discuss with clients during the consultation. These strategies are contingent on how the buyers respond during the need's analysis, as well as their financial circumstances. It's important to never underestimate building a relationship with the seller's agent. Many times, I have been able to present an offer that was outbid by another buyer, but my client's offer was accepted based on the relationship building on the front end with the seller's agent. 
Q: What are two things that separate you from other agents?
NR: The level at which I care. I approach every buyer's and seller's situation as though it were my own personal transaction. My word is my bond and if I say something, I do it. 
The second thing that separates me from other agents is my honesty. After asking buyers and sellers the questions necessary to determine their needs, there have been multiple times I have suggested something other than buying or selling a home. I am a creative problem solver by nature and consistently seek solutions that are best for my clients, even if that means that I don't help them buy or sell a home. 

Q: If we interviewed all your past clients … what is one common word that comes up when they describe working with you?
NR: Responsive. I don't want them to ever feel like they are in the dark or don't know what to expect with the buying or selling of real estate. 
Q: Can you tell our audience one of your most memorable moments your career?
NR: I think my client's excitement about improving their quality of life or that of their family is always memorable to me. When I had the opportunity to help a family that had a daughter with Autism was probably one of my most memorable moments.. Since, my own kiddo has special needs, this was just so precious to me. There have been so many amazing moments, so it's really hard to just pick one. 
Q: Which woman inspires you and why? 
NR: Oh, wow, this is a tough one. I am inspired by many women that are doing their best to make a positive impact in the world. Two women that have always inspired me are Harriet Tubman and Mother Teresa. I have always had a heart for individuals that are often marginalized by society. And I feel that both of these women were brave, courageous, and authentic. 
Q: What are some of the challenges you feel women face today?
NR: Most women I know struggle with work/life balance. I feel that there's so much pressure (for me, it's mostly self-induced). Pressure to be a full time employee or entrepreneur, full time parent and often times spouse or caregiver. The demands feel overwhelming. 
Q: After high school, where did you feel your career path would take you?  
NR: Going back to the whole making an impact, I truly thought that I would be working in orphanages in third world countries. I have had the opportunity to serve in them, and it has been an amazing experience. Now, I have the opportunity to make an impact one family or person at a time with what is often their largest financial transaction. 
Q: Can you tell us how you manage your work life balance?
NR: If I am being honest, this is not a strength of mine. I do have some serious support systems in place for personal growth and development, which helps immensely. But I often work late into the night to accomplish administrative tasks. I am working on hiring an assistant and a buyer's agent to take some of the workload off of my plate. 
Five Things About Natalie Randall

1. Favorite cookie? 
Cinnamon oatmeal with no raisins or M&M
2. What's your favorite family tradition?
Cooking together or movie night 
3. What celebrity would you like to meet at Starbucks for a cup of coffee? 
Any celebrity that is down to earth. I really like Chris Pratt, Hugh Jackman, or Matthew McConaughey. 
4. Would you rather cook or order in? 
This really depends on how much work I have to finish for the day. I love cooking, but if I am stretched for time, I hit the "easy" button and order in. 
5. What would your perfect vacation look like? 
Anything with adventure. I am not one for sitting still in the same place for days on end. We took a trip to the Bahamas last year and there were so many adventures made from snorkeling in the open water, swimming with the sea turtles, etc. I would really love to vacation in Australia, New Zealand, and Iceland.